The Charles County Literacy Council sincerely appreciates the support of our donors and volunteers! Without you, we would not be able to provide valuable reading and math tutoring services to adults in Charles County. We also owe a great debt of gratitude to our partner agencies, which include the United Way of Charles County, the Charles County Government, the Lifelong Learning Center, the Combined Federal Campaign, the Maryland Charity Campaign, the Charles County Public Library, and the Southern Maryland Regional Library Association. The positive impact of funding and logistical support provided by our partner agencies cannot be overstated.
Donate the Gift of Reading
The Gift of Reading –With a Gift of Reading contribution, you will ensure the support of CCLC to continue its free one-on-one adult literacy tutoring to the many who seek our services, to training new tutors and so much more!
To donate to CCLC, click on the PayPal "Donate" button below. Or you may fill out and mail a check with our Gift of Reading Form (or if in honor or memory of a loved one or friend use our Contribution Form/Tribute Gift Form). Donations (checks) should be made out to 'Charles County Literacy Council' and mailed to P.O. Box 2672, La Plata, MD 20646.
All donations go directly towards supporting our program—for example, $175 to the cost of reading or math and accompanying materials and resources for one tutor and one adult learner for 6 months. $58 to the cost of one set of instructional material for one tutor and one adult learner. $63 to the cost of training just one tutor.
Help create experiences in bringing fulfillment and pride to those we tutor within our community. We are extremely grateful for your financial support. Thank you!
Donate through payroll deductions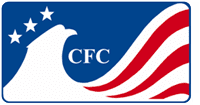 CFC #77322
MCC #521525917
Donate a portion of our paycheck through payroll deductions. Fill out your pledge form to Charles County Literacy Council, CFC #77322 or to MCC #521525917. This is vitally important so that your pledge can reach us and help to provide books to our tutors and students. You can also contribute through the Charles County United Way by writing "Charles County Literacy Council" on your pledge form.
If you work in the local schools or businesses throughout Charles County, you will be provided an annual Charles County Directory of Human Services produced by the United Way of Charles County, along with a pledge form. This booklet lists the charities in Charles County and it is important to indicate your choice (Charles County Literacy Council) rather than to mark your donation for a general fund.
Contribute! Support CCLC through the following methods
Amazon Smile
Do you shop on Amazon.com? If so, you can also benefit the Literacy Council with your Amazon.com purchases. If you bookmark our web site (www.charlescountyliteracy.org) and click through to Amazon.com from the logo link on our site, the Literacy Council will receive between 4% and 10% of your online purchase as a donation.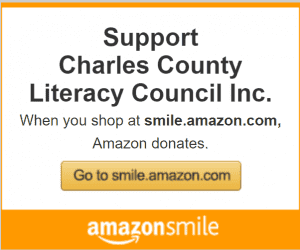 iGive
If you shop online, it is possible for you to help the Charles County Literacy Council while receiving a tax deduction as you shop. Just go to http://www.igive.com/welcome, download the iGive Shopping window, designate Charles County Literacy Council as your cause, and shop as you normally do by going directly to your favorite online stores. iGive.com handles the donations automatically! Mac Users: the iGive shopping window is not Mac compatible, however, you CAN still benefit the Literacy Council with your shopping. Just go to iGive.com, register, and use their shopping mall links to your favorite websites.
More than 1500 merchants make donations through iGive.com. The donation amount varies from 0.4% to over 25% of the amount you spend. When the iGive window pops up as you visit a participating merchant's site, the donation amount will be specified. You can find out how much your online purchases have benefited the Charles County Literacy Council by clicking on "My iGive" to visit My Stats. Just click on "Tax Deduction Report" for a breakdown of your donations for the calendar year. Click on "Shopping Activity Report" for an itemized list of your purchases and the cause they benefited. You can print this out for your records.
iGive.com also offers a $5 First Time Shopper's Bonus. If you make your first online purchase through the iGive Shopping Window or the iGive shopping mall within 45 days of joining, an extra $5 will be donated on your behalf to Charles County Literacy Council.