Congratulations to our newest volunteer tutors:  Adrien Seaton, Beth Gilliland, Luke Adams, Susan McCormick and Yvette Francis. Thank you and welcome aboard!
This was our first "revamped" tutor training, which included two evening Zoom sessions on November 11-12, 2020, and one in-person session the morning of Saturday, November 14, 2020 (following all CDC guidelines for safety of course!). They truly learned the positive impact they will have in someone's life — not to mention understanding what it means for those who cannot read or "can" read but simply don't understand what they are reading. When someone says to you, "can you read this to me, I forgot my glasses", there is the possibility that it means: "can you read this to me because I can't read it."
Stay tuned for our next tutor workshop scheduled for the first quarter of 2021!
If you and your organization are interested in outreach and becoming tutors, we can bring our workshop to you. Just give us a call at 301-934-6488, or email us at charlescountyliteracy@comcast.net.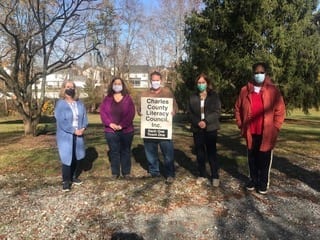 L to R: Adrien Seaton, Beth Gilliland, Luke Adams, Susan McCormick, Yvette Francis